PARISH BULLETIN – 2nd SUNDAY OF EASTER / DIVINE MERCY SUNDAY – 24th April 2022
SUNDAY MASSES NEXT WEEKEND
VIGIL MASS
St. Eugene's, Moneyneena:                5 pm
Holy Rosary, Draperstown:                6.15 pm [webcam]
St. Patrick's, Keenaught:             7.30 pm
SUNDAY
St. Columba's, Straw:                         9 am
St. Mary's, Coolcalm:                  10 am [webcam]
St. Patrick's, Sixtowns:                       11 am
Holy Rosary, Draperstown:               12 noon [webcam]
WEEKDAY MASSES FOR THIS EASTER WEEK
St. Mary's Church, Coolcalm:  Tuesday, Thursday and Friday ~ 11 am.
Holy Rosary Church:  Monday and Wednesday ~ 11 am; Friday ~ 7.30 pm.
All Masses in St. Mary's, Coolcalm are transmitted live via the Desertmartin parish webcam:
All Masses in the Holy Rosary Church are transmitted live on the Ballinascreen parish webcam:
____________________________________________________________
Fr. Peter Madden P.P. V.F.                                    
31 Sixtowns Road, Draperstown
Phone:  028 7962 8376
Fr. Dermot McGirr C.C.
50 Tobermore Road, Desertmartin
Telephone:  028 7963 2196
Fr. John Downey C.C.
36 Moneyneena Road
Telephone:  028 7962 8375
____________________________________________________________
DEATHS AND ANNIVERSARIES
Please remember in your prayers:
Fr. John Cargan, P.P. Kilrea and Michael Hickson, Bellaghy who were buried during the week.
Laurence Rooney, Rory O'Kane, Dan McDonald and Ignatius O'Kane who died recently.
Charlie Kearney, James Breen, Mary McGuckin, Colum McKenna, Susan Higgins, Minnie Higgins, Henry Trainor, Anne O'Neill, Mary Anne McGuckin, Frank McGuigan and Lawrence Devenney whose anniversaries occur at this time.
MONTH'S MIND MASS
The Month's Mind Mass for Mary O'Hagan will be celebrated on Friday 29th April at 11 am in St. Mary's Church, Coolcalm.
____________________________________________________________
THANK YOU for your generous contributions to the Parish.
Last Week:
Easter Sunday Collection/Priests' Collection envelopes:  £1,615.00.
TRÓCAIRE
Please return Trócaire boxes or donations for Trócaire at any of the Sunday Masses.  Thank you.
KNOCKNAGIN HALL COMMITTEE
Anyone interested in a knit and natter class to knit or crochet baby hats for Antrim Area Hospital neonatal unit, wool can be provided, contact Kathleen:  077 6427 7809, Anne:  028 7964 2711, Olive:  078 8761 4094 stating preference of time either a Tuesday evening or a Wednesday afternoon.
SPRED Group:  Next Meeting on Monday 25th April at 7.30 pm.
Chair Exercises with Thomasina recommence on Tuesday 26th April at 10 am.
Line Dancing Classes recommence on Wednesday 27th April at 7.30 pm.
Band Practice recommence on Thursday 28th April at 8 pm.  New members welcome.
Bowling Club has now stopped for the summer months and will recommence on the first Tuesday in September.
SARSFIELD'S BAND
Band practice will resume again on Thursday 28th April.  New members are always welcome.
The April winner of our monthly draw was ticket No. 184 – £50 to Noah McCabe, Cookstown.
Our continual nonstop draw takes place every month, cost £1 per month or £12 for the year, £50 prize drew every month.  Tickets can be got from any Band or Div. member.
SLIEVE GALLION ACTIVE RETIREMENT 
The group is resuming activities shortly and would like to hear from all previous members and anyone who would be interested in joining the group.  Membership is open to anyone over 55 and includes various activities, day trips and holidays.  Contact Chris on 075 4601 0560.
MAGHERA BINGO
Bingo resumes in Glen Centre, Maghera on Tuesday 26th April at 8.30 pm.  Everyone welcome.
KILCRONAGHAN ACTIVITY CENTRE
Watercolour Painting Masterclass with George Gourley, a 4-week set of classes commencing Monday 9th May, 10 am – 12 noon.  Suitable for all abilities, all materials supplied.  Numbers are restricted and must be pre-booked.
Energy Efficiency in the Home (NEA NI) on Monday 4th April, 11 am – 12.30 pm.  This informative talk will include low cost/no cost top tips, advice and support, and how some simple changes to day-to-day activities in your home could make a big difference to household bills, essential as we're at a time when many household budgets are already stretched thin.  This is a Free event but places Must be booked as numbers are limited.
All enquiries and to book your place on either event, Text: 078 2196 3749 or Email: manager@kilcronaghan.co.uk
TIRGAN COMMUNITY ASSOCIATION
Sunday 29th May ~ Tirgan Hall Big Breakfast and Hill Walk.  Breakfast served from 9 am, registration for hill walk from 8.45am.  £10 breakfast and hill walk.  Breakfast £7.50.
Sunday 5th June ~ Kids mini tractor/bike run at 11 am.  £5 per child.
Saturday 25th June ~ Adrain Knight, Comedy Hypnotist.  Ticket details to follow.
DIVINE MERCY NOVENA
Divine Mercy Novena continues until Saturday 23rd April, leading into Divine Mercy Sunday on 24th April.  For those who would like to join in the Novena but do not have a Novena Prayer Card, it can be accessed on: https://divinemercy.life/the-divine-mercy-novena/ .
VOCATIONS
'It is to the glory of my Father that you should bear much fruit and then you will be my disciples.'  Are you being called to love the Lord and his people as a diocesan priest?  If considering such a vocation, contact your local priest or Diocesan Vocations Director, Fr. Pat O'Hagan, P.P. Moville at pgoh2111@gmail.com or email the National Vocations Office info@vocations.ie
ACCORD
Accord Catholic Marriage Care Service is currently recruiting volunteers to train as marriage preparation programme facilitators.  Accord is seeking registration of interest from those who have a positive attitude towards marriage in the Catholic Church and the enthusiasm to be part of a team supporting couples who are preparing for the Sacrament of Marriage.  Accord Catholic Marriage Care Service has 54 centres in dioceses across the island.  Successful applicants will receive professional training and will be part of a team delivering marriage preparation programmes locally in accordance with best practice.  Contact Deirdre on 079 8089 8399 or by email to info@accordni.com.  The closing date for receipt of registration of interest forms to be included in Selections for this year is Friday 27th May.  Registration of Interest form and additional information about becoming a facilitator is available on www.accordni.com.
LIFE IN THE HOLY SPIRIT SEMINARS
Seminars on Thursday evenings until Thursday 2nd June at 7.30 pm in Sacred Heart Church, Omagh.  Mass with homily.  Celebrant this week will be Fr. Eddie McGee, St. Mary's University College and he will preach on 'Salvation'.  www.churchsetvices.tv/drumraghparish
ROSARY AT THE GROTTOS
The Rosary will be prayed for peace in the world each day during May at hundreds of grottos around Ireland.  For more details including the list of grottos please visit www.coastalrosaryireland.ie
DROMANTINE CENTRE NEW WORKSHOPS
Bookings now open for these workshops:  HELLO YOU ~ Finding the joy, purpose and happiness you deserve.  Friday 20th May at 5 pm – Sunday 22nd May at 2 pm.  ALONE TOGETHER ~ Finding our way back to connection.  Saturday 18th June, 9.30 am – 4.30 pm.  THE LONG GOODBYE ~ Practical advice for caregivers of people living with dementia.  Friday 19th August at 5 pm – Sunday 21st August at 2 pm.  WHEN IT IS DARKEST ~ Understanding suicide.  Saturday 24th September, 9.30 am – 4.30 pm.  CHURCH ABUSE:  A UNIQUE BETRAYAL ~ A call to listen, a call to action, a call to change.  Friday 4th November at 5 pm – Sunday 6th November at 2 pm.  The Workshop Facilitator is Fr. Hugh Lagan SMA, priest and chartered clinical psychologist who has led retreats, workshops and trainings internationally on psychological and spiritual well-being, positive change, trauma, mental health and resilience.  Please contact Jacinta or Louisa to reserve your place:  Phone 028 3082 1964 or email admin@dromantineconference.com.
LOUGH DERG RE-OPENS
Lough Derg welcomes Pilgrims again with a full Pilgrimage programme this summer.
Three Day Pilgrimage:  1st June – 15th August.  Booking advised.  Concessions available for students, seniors and groups.
One Day Retreats and guided Pilgrim Path experience:  dates in May and late August through September.  Booking essential.
All booking information at www.loughderg.org, email info@loughderg.org or telephone 00353 71 9861518.  Lough Derg, Pettigo, Co. Donegal, F94 N289.
MATT TALBOT ANNUAL PILGRIMAGE
Do you or somebody you know suffer from an addiction?  Yes?  Pilgrimage to Shrine of Matt Talbot in Our Lady of Lourdes Church, Sean McDermott Street, Dublin on Sunday 12th June 2 pm – 4.30 pm, when prayers for freedom from addiction through Jesus will be offered.  For more details, phone 00353 48 7126 2894 see www.matttalbotprayersociety.com or email vita@matttalbotprayersociety.com
The Matt Talbot Prayer Society prays daily for those with addictions.  You can enrol somebody to be prayed for each day as well as at the Mass on the First Monday of each month at 7.30 pm in St. Eugene's Cathedral, Derry.  For more details visit www.matttalbotprayersociety.com where you can also enrol somebody via an online submission.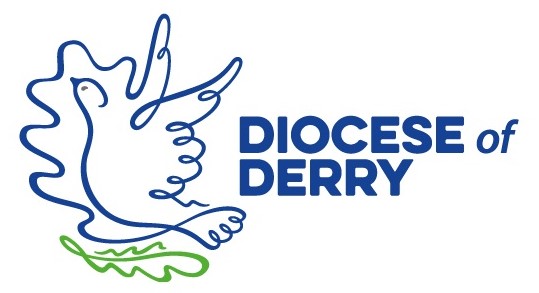 DERRY DIOCESAN PILGRIMAGE TO LOUGH DERG ~ FRIDAY 24TH – SUNDAY 26TH JUNE 
The Annual Diocesan Pilgrimage to Lough Derg will take place on Friday 24th June – Sunday 26th June.  Bishop McKeown will lead the pilgrimage and invites you to join him.  Booking is essential, so please contact the Diocesan Catechetical Centre.  Tel: 028 7126 4087 or Email:  lizzie.rea@derrydiocese.org.  Cost is £80, which includes return transport from St. Eugene's Cathedral, Derry.
THE DERRY DIOCESAN CATECHETICAL CENTRE
The Derry Diocesan Catechetical Centre, working in Partnership with Saint Mary's University, Twickenham, offers the Masters in Catholic School Leadership.  This is a post-graduate degree dedicated to the professional development and spiritual formation of Catholic school leaders.  It is a great opportunity for those currently in leadership roles and those who aspire to, or have an interest in, leadership roles within the Catholic School system.  The Derry Centre to date has 42 graduates and 30 more students at different stages of the programme.  Applications for the Autumn intake close on 30th September 2022.  If you require any further information, please contact the Derry Diocesan Catechetical Centre on 028 7126 4087 or email tferry@derrydiocese.org.
DERRY DIOCESAN PILGRIMAGE TO LOURDES 2022
The Derry Diocesan Pilgrimage to Lourdes will resume this year, from 3rd to 8th July.  Cost:  £689 per person sharing, with single room supplement £150.  Price includes flights, transfers and full board.  The pilgrimage will be suitable for pilgrims who do not require medical, nursing or personal assistance as, unfortunately, this cannot be provided this year.  The intentions of the sick of the diocese can be taken to Lourdes.  The Pilgrimage Office, 164 Bishop Street, Derry, will be open for enquires and application forms on Thursdays and Saturdays, 11 am – 1 pm from 3rd March.  Tel:  028 7126 0293 or email derrypilgrim@outlook.com.
PILGRIMAGE TO FATIMA
Escorted group Pilgrimage.  7 nights departing from Dublin with 20 kgs check-in-bag.  Staying in 4 Star Styler Hotel with breakfast, lunch and evening meal each day.  Excursion to Santarem, guided tour of Aljustrel and sights relating to the apparitions in the surrounding area.  Cost: £679 per person sharing.  For more information, contact Bridie Gallagher on 028 2564 4181.  Pick up Points:  Oak Leaf Restaurant, Castledawson Roundabout and Ballymena.