PARISH BULLETIN – 5th SUNDAY OF EASTER – 15th May 2022
SUNDAY MASSES
VIGIL MASS
St. Eugene's, Moneyneena:                5 pm
Holy Rosary, Draperstown:                6.15 pm [webcam]
St. Patrick's, Keenaught:             7.30 pm
SUNDAY
St. Columba's, Straw:                         9 am
St. Mary's, Coolcalm:                  10 am [webcam]
St. Patrick's, Sixtowns:                       11 am
Holy Rosary, Draperstown:               12 noon [webcam]
WEEKDAY MASSES
St. Mary's Church, Coolcalm:  Tuesday, Thursday and Friday ~ 11 am.
Holy Rosary Church:  Monday and Wednesday ~ 11 am; Friday ~ 7.30 pm.
All Masses in St. Mary's, Coolcalm are transmitted live via the Desertmartin parish webcam:
All Masses in the Holy Rosary Church are transmitted live on the Ballinascreen parish webcam:
____________________________________________________________
Fr. Peter Madden P.P. V.F.                                    
31 Sixtowns Road, Draperstown
Phone:  028 7962 8376
Fr. Dermot McGirr C.C.
50 Tobermore Road, Desertmartin
Telephone:  028 7963 2196
Fr. John Downey C.C.
36 Moneyneena Road
Telephone:  028 7962 8375
____________________________________________________________
DEATHS AND ANNIVERSARIES
Please remember in your prayers:
Rita Maguire, Ballygawley, who died during the week.
Canon Bob Fullerton, Phillip Gallagher and Phyllis Gavigan who died recently.
Baby Anna Rose Martin, Charlie Donnelly, Michael Burns, Michael McKay, Malachy O'Brien, Susan Toner, Christina Keenan, John Moran, Rose Fee, Frances Corry and Keith Houston whose anniversaries occur at this time.
First Anniversary Mass
The First Anniversary Mass for Brendan Kyne will be celebrated on Friday 20th May at 7.30 pm in the Church of Our Lady of the Assumption, Magherafelt.
____________________________________________________________
THANK YOU for your generous contributions to the Parish.
Last Week:
Sunday Collection/Priests' Collection envelopes:  £783.75.
TRÓCAIRE ~ LENT 2022
If anyone would still like to contribute, please bring your donation to any weekend Mass.
CONGRATULATIONS
To the Primary 4 children of St. Columb's P.S., Cullion who made their First Holy Communion on Saturday 14th May.  Congratulations to their parents, families, relatives and friends on this special day for them too.
FIRST HOLY COMMUNION
The children of Knocknagin Primary School will celebrate their First Holy Communion next Saturday 21st May at 11 am in St. Mary's Church, Coolcalm.
Family relatives, friends and parishioners will be able to view the Mass on the parish webcam – https://www.churchservices.tv/Desertmartin
Please keep the First Holy Communion children and their families in your prayers this coming week.
KNOCKNAGIN HALL COMMITTEE
Upcoming activities in May:
Knit and Natter Class on Tuesdays from 7 pm – 8.30 pm.  Come along and knit or crochet baby hats for the Neonatal Unit in Antrim Area Hospital.  Everyone welcome.  Wool can be provided.  Contact Kathleen:  077 6427 7809, Anne:  028 7964 2711, Olive:  078 8761 4094.
SPRED Group:  Next Meeting on Monday 16th May at 7.30 pm.
Chair Exercises with Thomasina continue on Tuesday mornings at 10 am.
Line Dancing Classes continue on Wednesday evenings at 7.30 pm.
Band Practice continues on Thursdays at 8 pm.  New members always welcome.
Charity dance for Air Ambulance N.I. on Friday 27th May.  Music by Liam McLaughlin.  Dancing from 8.30 pm to Midnight.  Admission – £5, includes light supper.
SARSFIELD'S BAND
Sarsfield's Band and Div. 30 offer their deepest sympathies and condolences to the McPeake family on the death of  Brigid Rose McPeake, Greenlough.  May her soul rest in peace.
Band Practice continues on Thursday nights from 8 pm to 9 pm.  New members are always welcome.
Congratulations to Hugh McGuckin, Tirgan, winner of the May monthly draw, £50.
£50 prize drawn every month, ticket cost £1 per month or £12 for the year.  Tickets can be got from any Band or Div. member.
ROSARY AT THE GROTTOS
As part of the Nationwide Prayer for Peace, Rosary will take place at Chris Trainor's every evening in May at 8 pm at 11 Quarry Road, Desertmartin.  Everyone welcome.
TIRGAN COMMUNITY ASSOCIATION
Sunday 29th May ~ Tirgan Hall Big Breakfast and Hill Walk.  Breakfast served from 9 am, registration for hill walk from 8.45am.  £10 breakfast and hill walk.  Breakfast £7.50.
Sunday 5th June ~ Kids mini tractor/bike run at 11 am.  £5 per child.
Saturday 25th June ~ Adrain Knight, Comedy Hypnotist.  Ticket details to follow.
SLIEVE GALLION ACTIVE RETIREMENT 
The group is resuming activities shortly and would like to hear from all previous members and anyone who would be interested in joining the group.  Membership is open to anyone over 55 and includes various activities, day trips and holidays.  Contact Chris on 075 4601 0560.
KILCRONAGHAN CENTRE
Annual Plant Sale on Friday 27th May.  Gates open 6.30 pm.  Great selection of perennials, annuals and shrubs.
Jiving Classes with Conor and Mairead Mc Eldowney from Monday 23rd May, 8 pm – 9 pm for 5 weeks.  £25 paid on first night.  Book with Conor on 078 7121 0585.
Painting Classes continue every Wednesday at 10 am – 12 noon and 7 pm – 9 pm.  Suitable for all abilities and beginners.  Everyone welcome.  Text/ring 078 2196 3749 for more details or to book your place.
VOCATIONS
Are you being called to love the Lord and his people as a diocesan priest?  If considering such a vocation, contact your local priest or Diocesan Vocations Director, Fr. Pat O' Hagan, P.P. Moville at pgoh2111@gmail.com or email the info@vocations.ie
LIFE IN THE HOLY SPIRIT SEMINARS
Seminars on Thursday evenings until Thursday 2nd June at 7.30 pm in Sacred Heart Church, Omagh.  Mass with homily.  Celebrant on Thursday 19th May will be Fr. Columba M. Toman O.P., St. Mary's Priory, Tallaght.  He will preach on Baptism in the Holy Spirit.  You can follow the seminars at  www.churchsetvices.tv/drumraghparish
YOUTH 2000
Youth 2000 Prayer Group at Lavey Parochial house (opposite Lavey chapel) every Friday evening at 7.30 pm.  For ages 16-35.  Please contact Cora on 077 0438 6248 or Declan on 075 4479 0147.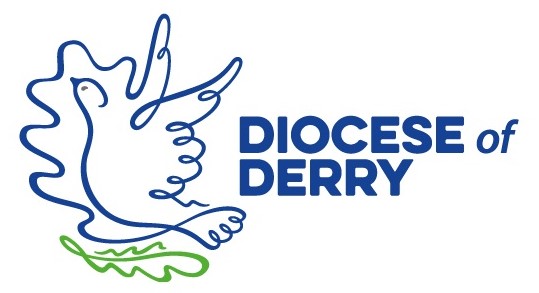 DERRY DIOCESAN TRUST JOB ADVERTISEMENT
Caretaker, 10 hours per week (additional overtime hours may be required to meet the needs of the parish and may include evening and weekend work) in Cappagh Parish, Omagh, Co. Tyrone.  Closing date 27th May.  For a job description and application form, please write:  Personnel, Derry Diocesan Office, St. Eugene's Cathedral, Francis Street, Derry BT48 9AP; email:  payroll@derrydiocese.org or telephone:  028 7126 2302.
ACCORD RECRUITING VOLUNTEERS
Accord Catholic Marriage Care Service is currently recruiting volunteers to train as marriage preparation programme facilitators.  Accord is seeking registration of interest from those who have a positive attitude towards marriage in the Catholic Church and the enthusiasm to be part of a team supporting couples who are preparing for the Sacrament of Marriage.  Accord Catholic Marriage Care Service has 54 centres in dioceses across the island.  Successful applicants will receive professional training and will be part of a team delivering marriage preparation programmes locally in accordance with best practice.  Contact Deirdre on 079 8089 8399 or by email to info@accordni.com.  The closing date for receipt of registration of interest forms to be included in Selections for this year is Friday 27th May.  Registration of Interest form and additional information about becoming a facilitator is available on www.accordni.com.
GAMBLERS ANONYMOUS
Is gambling affecting your life?  Perhaps we can help.  Call us on 028 7135 1329.
CONCERT FOR UKRAINE 
featuring 'The Magnificent Seven Crew' in partnership with the Derry Branch of Concern Worldwide on Monday 6th June in the Millennium Forum with over 30 top singers and entertainers from Derry City and beyond, who are giving of their time freely to help those suffering as a result of the terrible devastation being inflicted on the people of Ukraine.  Tickets, £16.50, are available online or at the Millennium Forum Box Office.  All proceeds from the show will go to the Ukrainian humanitarian appeal.
THE MILLENNIUM FORUM
The Millennium Forum has launched a monthly Access Newsletter, to inform people of the facilities at the Forum and about upcoming accessible events.  The newsletter can be viewed on our website in our News section or sent directly by email.  If you would like to receive the Newsletter via email, please contact lisal@millenniumforum.co.uk
PILGRIMAGE GUIDE TO THE HOLY LAND 
'An Irish Pilgrimage Guide to the Holy Land' is a new book by Michael Kelly, Editor of 'The Irish Catholic' newspaper which explores the places associated with the life of Christ.  Michael, who has led many pilgrimages to the Holy Land, says he hopes the book can also act as an 'armchair retreat' for people who cannot travel to the Holy Land bringing the Gospel to life for them.  It is available now from all good bookshops and www.columbabooks.com price €16.99/£14.99.
DROMANTINE CENTRE NEW WORKSHOPS
Bookings now open for these workshops:  HELLO YOU ~ Finding the joy, purpose and happiness you deserve.  Friday 20th May at 5 pm – Sunday 22nd May at 2 pm.  ALONE TOGETHER ~ Finding our way back to connection.  Saturday 18th June, 9.30 am – 4.30 pm.  THE LONG GOODBYE ~ Practical advice for caregivers of people living with dementia.  Friday 19th August at 5 pm – Sunday 21st August at 2 pm.  WHEN IT IS DARKEST ~ Understanding suicide.  Saturday 24th September, 9.30 am – 4.30 pm.  CHURCH ABUSE:  A UNIQUE BETRAYAL ~ A call to listen, a call to action, a call to change.  Friday 4th November at 5 pm – Sunday 6th November at 2 pm.  The Workshop Facilitator is Fr. Hugh Lagan SMA, priest and chartered clinical psychologist who has led retreats, workshops and trainings internationally on psychological and spiritual well-being, positive change, trauma, mental health and resilience.  Please contact Jacinta or Louisa to reserve your place:  Phone 028 3082 1964 or email admin@dromantineconference.com.
LOUGH DERG RE-OPENS
Lough Derg welcomes Pilgrims again with a full Pilgrimage programme this summer.
Three Day Pilgrimage:  1st June – 15th August.  Booking advised.  Concessions available for students, seniors and groups.
One Day Retreats and guided Pilgrim Path experience:  dates in May and late August through September.  Booking essential.
All booking information at www.loughderg.org, email info@loughderg.org or telephone 00353 71 9861518.  Lough Derg, Pettigo, Co. Donegal, F94 N289.
MATT TALBOT ANNUAL PILGRIMAGE
Do you or somebody you know suffer from an addiction?  Yes?  Pilgrimage to Shrine of Matt Talbot in Our Lady of Lourdes Church, Sean McDermott Street, Dublin on Sunday 12th June 2 pm – 4.30 pm, when prayers for freedom from addiction through Jesus will be offered.  For more details, phone 00353 48 7126 2894 see www.matttalbotprayersociety.com
The Matt Talbot Prayer Society prays daily for those with addictions.  You can enrol somebody to be prayed for each day as well as at the Mass on the First Monday of each month at 7.30 pm in St. Eugene's Cathedral, Derry.  For more details visit www.matttalbotprayersociety.com where you can also enrol somebody via an online submission.
DERRY DIOCESAN PILGRIMAGE TO LOUGH DERG ~ FRIDAY 24TH – SUNDAY 26TH JUNE 
The Annual Diocesan Pilgrimage to Lough Derg will take place on Friday 24th June – Sunday 26th June.  Bishop McKeown will lead the pilgrimage and invites you to join him.  Booking is essential, so please contact the Diocesan Catechetical Centre.  Tel: 028 7126 4087 or Email:  lizzie.rea@derrydiocese.org.  Cost is £80, which includes return transport from St. Eugene's Cathedral, Derry.
IRISH CHURCH MUSIC SUMMER SCHOOL
The Irish Church Music Association is resuming its Summer School in St. Patrick's College, Maynooth, Co. Kildare on Thursday 14th July and Friday 15th July.  They resume their 'in person' Summer School with two days of workshops this year.  Dr. John O'Keeffe and Ronan McDonagh will be guest presenters on Thursday 14th July.
THE DERRY DIOCESAN CATECHETICAL CENTRE
The Derry Diocesan Catechetical Centre, working in Partnership with Saint Mary's University, Twickenham, offers the Masters in Catholic School Leadership.  This is a post-graduate degree dedicated to the professional development and spiritual formation of Catholic school leaders.  It is a great opportunity for those currently in leadership roles and those who aspire to, or have an interest in, leadership roles within the Catholic School system.  The Derry Centre to date has 42 graduates and 30 more students at different stages of the programme.  Applications for the Autumn intake close on 30th September 2022.  If you require any further information, please contact the Derry Diocesan Catechetical Centre on 028 7126 4087 or email tferry@derrydiocese.org.
DERRY DIOCESAN PILGRIMAGE TO LOURDES 2022
The Derry Diocesan Pilgrimage to Lourdes ~ 3rd to 8th July.  Cost:  £689 per person sharing, with single room supplement £150.  Price includes flights, transfers and full board.  The pilgrimage will be suitable for pilgrims who do not require medical, nursing or personal assistance as, unfortunately, this cannot be provided this year.  The intentions of the sick of the diocese can be taken to Lourdes.  Places are still available.  Contact:  The Pilgrimage Office, 164 Bishop Street, Derry, will be open for enquires and application forms on Thursdays and Saturdays, 11 am – 1 pm.  Tel:  028 7126 0293 or email derrypilgrim@outlook.com.  All intending pilgrims are asked to return application forms and full payment by Saturday 28th May.
STRESS CONTROL ONLINE  
Stress is a normal reaction to the rapidly changing and uncertain times we are all living in at the moment.  If you are feeling a bit more stressed than usual and would like to learn some great ways, free-of-charge, to deal with common problems like anxiety, depression, panicky feelings, poor sleep and poor wellbeing then come along to our online Stress Control class.  'Stress Control' is a six-session cognitive-behavioural therapy class used extensively in community-settings by the NHS (UK) and HSE (Ireland) and across the world.  You can find out more here: https://ni.stresscontrol.org/
As you can't come to a regular Stress Control class due to the current circumstances, Stress Control will come to you and live stream the sessions.  Each session will be available on the YouTube channel from 9 am and will remain available until 8 am the morning of the next session, e.g. Session One will be available from 9 am on Monday 9th May and will be taken down at 8 am on Thursday 12th May.  Session Two will then premiere at 9 am.
The sessions will be led by Dr. Jim White, consultant clinical psychologist, who created the class and who has taught most of the NHS (UK) and HSE (Ireland) trainers who would normally be running classes across the country.
To take part:
Go to https://ni.stresscontrol.org/ where you can learn more about the class and get the dates. Everything you need to successfully complete the class – the booklets, self-assessment, relaxation and mindfulness – can be found in the 'Free zone'.  If you can, please read, and start working on, the booklets in the 'Preparing for the course' section before Session 1.
On the homepage, click on the 'Stress Control Online' link to access our YouTube channel where the classes will be available to view at the scheduled times. If you click the 'Subscribe' button on our YouTube page (free), you will receive notifications when a new session is available.  You can also follow this link: https://www.youtube.com/channel/UCdCfzKgmXbB30baWLv6L5-g
The session will begin exactly on time, so make sure you are there from the start. Sessions run for about 90 minutes and there will be a 10-minute break in the middle.
Each session is one piece of the jigsaw in tackling your Stress. By coming to each class, the jigsaw will form, and the big picture can emerge, making you better able to handle your stress.  This is cognitive-behavioural therapy so it is crucial you practice the skills you will learn between sessions.
Life is very hard for us just now and there are no easy solutions or magic cures, but, with hard work and determination, we can boost our resilience to cope with these difficult times and come out the other end stronger. Please pass this on to anyone who you think might benefit from the class.